Lido delle Nazioni
(IlNaziòn)
Connected by a bike path off road at the Lido di Volano,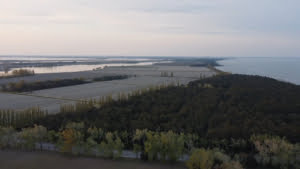 the town of Lido Nazioni probably named after the famous as the historic Hotel Nazioni and the decision of the municipality of Comacchio to name the names of streets and squares in countries and states.
Apart from the curiosity of his name, the beach in question has a lot to offer young visitors and families: they are numerous pubs derived from the bars of the beach establishments, outdoor tourist facilities and there are even clubs such as "The Rotonda ", perhaps the best known.
For lovers of nature and sport, the Lido of Nazioni offers a green pine forest can be explored on foot or by bike through different routes; while only one is the Lake of the nations: the reservoir is located where the eponymous Centro Nautico Nazionale, the lake is the destination of windsurfers, but there are also practiced sailing, kayaking and canoeing.
distinctive feature of the resort is the historic home of Garibaldi and Anita, building where the two stopped 2 August 1849 and now visited by those who want to breathe a bit 'of history while on vacation.