LIDO DEGLI SCACCHI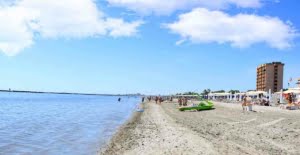 Lido degli Scacchi is a seaside resort in the town of Comacchio and belongs to the seven Lidos of Comacchio. Lido degli Scacchi is the location of the seven beaches of Comacchio characterized characterized by families from attracting a clientele.
On 8 August, it is held the famous festival Happy birthday of Lido degli Scacchi and Lido di Pomposa. The lido of the streets are alive with a parade with floats and fireworks.
Lido degli Scacchi is connected to Lido di Pomposa from a waterfront while you can reach well into Portogaribaldi thanks to a bike path.