LIDO DEGLI ESTENSI
Lido degli Estensi is a seaside resort that belongs to the seven Lidi of Comacchio.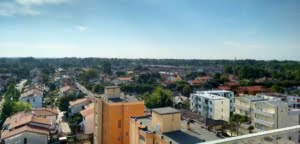 The Lido degli Estensi is the most touristic of the Seven Lidi of Comacchio and bears the name of the Estensi family that for a long time ruled Ferrara. Lido is the beach resort suitable for families and young people looking for fun. In fact, there are several clubs and bathing establishments that color the nights of Lido degli Estensi. 
Almost all the events wind around Viale Carducci, which is the commercial center of the Lido; real pedestrian street full of shops and ideal for all those who like to stroll for shopping.
Lido degli Estensi develops in an environment characterized by pine forest and presents among the longest sandy beaches of the Adriatic coast. Famous is also the new waterfront and the new tourist port that enrich the Lido degli Estensi, giving tourists different activities beyond the beach.